5. Bane, The Man who Broke The Bat.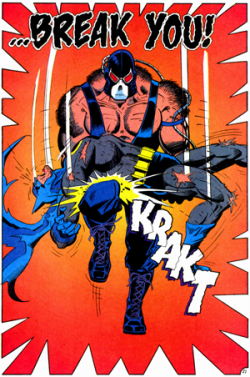 "I wonder what will break first. Your spirit, or your body?"
Bane was born in the made up Caribbean Republic of Santa Prisca to father Edmund Dorrance aka King Snake, a notorious criminal Bane was born in the prison of Peña Dura, and despite his Russian accent in The Dark Knight Rises he is of Hispanic roots.
As a growing child Bane showed prodigious skill. He learned English, Spanish, Latin, Portuguese and Persian , as well as several fields of sciences, thanks to his eidetic memory, which makes him one of the smartest villains in the batman universe.
Bane built up extraordinary strength (in his adult years he can lift 15 tons, though mostly due to a drug) which allowed him to kill at age eight. His only friend was a bear named Osito. Bane was haunted by visions of a monstrous bat, which leads him to believe that he is fated to kill Batman. He discovered Batman's secret identity in under a year, where all other villains had failed. Bane later met his father, who set a great parenting example by shooting him. Thankfully Bane was saved and returned to life.
Even though at first Bane seems to loathe Batman, they soon become a bit closer, with them forming a duo at one point, and Bane living at Wayne Manor. Bane does not kill Batman in the end due to his honour. Bane dislikes most of the villains in the Batman universe, and deems the Joker to be childish. He has threatened his death numerous times.
Bane is subject to Venom a chemical substance pumped to the brain which enhances strength and healing to almost superhuman levels. Bane became addicted, but went briefly mad after quitting. (The lesson is kids, don't take drugs)
Due to his incredible strength, intelligence, code of honour and his ruthlessness to those that displease him, Bane had to make this list.
     4.  The Mad Hatter, Master Of The Mind.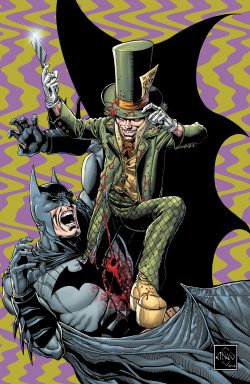 "We´re all just letters on a page, I just thought you ought to know. We´re just script, rushed out to meet a deadline. We can never aspire to more than penny-dreadful melodrama."
From the start, Jervis Tetch was never popular. Short, buck-toothed, large headed and with a English accent he had all the qualities which made him a supreme target for bullies, and the jeers of "the young ladies", which resulted in Jervis developing schizophrenia, which became worse as he grew up, even using hypnotic suggestion to make a baseball team kill each other, under the (false) accusations of them assaulting his sister . An amazing scientist, he theorised that there was no such thing as free will, and that the mind could be controlled via chemicals and technology. His schizophrenia and madness now full blown, he began to believe himself a re-incarnation of Alice in Wonderlands  Mad Hatter.
Jervis soon began talking and dressing just like the Mad Hatter, and as his mind deteriorated even more, began to develop an obsession with hats, which he implanted with his newly created mind control chips. His mind finally snapped when he began to believe that Alice existed in real life, and kidnapped young girls to see if they were the books protagonist, murdering them when they were not. This attracted the attention of Batman, and The Mad Hatter was delighted, both at the prospect of controlling him, and acquiring his cowl as part of his hat collection.
The Mad Hatter uses mind controlled thugs to do his bidding, who usually wear Wonderland themed masks, such as rabbits. He likes to treat his enemies to a ridiculously  childlike tea party with him acting out the role of The Hatter and of the host, offering tea and cupcakes in his deranged fashion, then trapping his enemies in "Wonderland" via his mind chips. Batman is the only person to ever have escaped this. He also briefly joined the Wonderland Gang, a gang compromised of villains pretending to be characters from the book. (Sadly, no Alice.)
Jervis has had little fights with Batman, but his technology certainly is a great hindrance to the Dark Knight, as it is frequently used to try and enslave Gotham, both by Tetch and by Hugo Strange. The Mad Hatter is pathetic in hand to hand combat, but has an arsenal of gas guns, flying hats, guns and mind control chips at his disposal.
The Mad Hatter´s personality is that of a deranged, childlike, paranoid and obsessive madman, which naturally has lead to the Joker taking an interest in him, and forming a team once. He maintains no relation with the other villains, except for Ragdoll his only friend, who pushed him off a cliff, nearly killing him, which didn´t help much. He also used Scarecrow (see below) to do his bidding via mind chip.
3. Scarecrow, Lord of fear.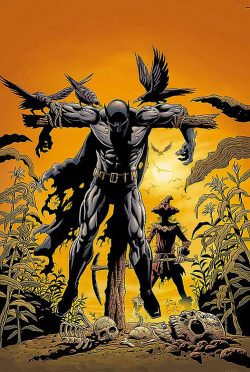 "There is nothing to fear, other than fear itself"
Time to let another deranged genius into the fray. Meet Dr Crane.
Crane is a man obsessed with fear and revenge, due to him being (as well) mercilessly bullied at school due to his superior intelligence and lanky body, as well as his bookishness and resemblance to Ichabod Crane from Sleepy Hollow.  He has an intense fear of bats, which leads to his hatred of Batman.  After a bout of particularly strong bullying, Crane completely flies off the handle, and at a school prom, dons what would be his trademark costume and fires on the crowd. In the ensuing chaos the bully is paralized and a cheerleader (who turned him down) are killed.
Crane got off free and became a psychiatrist in Arkham Asylum, where he conducted fear inducing experiments on his patients. He worked at Gotham University, specialising in phobias, until he was fired for injuring a child. He took this reasonably calmly, then returned the following night as Scarecrow and killed the people responsible for his dismissal.
Crane decided to adopt Scarecrow as his criminal name, and created a fear gas as his primary weapon, a gas which would make a person experience his deepest fears. Surprisingly, it affects everyone in the Batman Universe, except for Joker.  His modus operandi consisted of mostly frightening his enemies out of their minds, or using his gas to spread fear and chaos over a large area with the help of his crop duster.
Crane is revealed to be even more deranged, killing his grandmother as a teenager and speaking in rhymes to Batman. His weapons are usually his gas, pitchforks, scythes and sickles, as well as a Tommy gun. He is surprisingly good at martial arts, using his long body as an advantage, as well as proving oddly agile. He had a crow named Nightmare. His immunity to fear makes the Black Lanterns unable to attack him, and later becomes a Yellow Lantern.
2. Hush, a "doctor"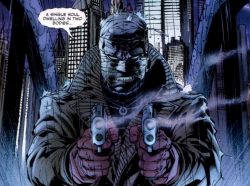 "I'm making chaos, mayhem and destruction on a level you can only dream about."
Thomas Elliot was best friends with Bruce Wayne as a child, and unbeknownst to Bruce,they were  dark opposites of each other. Elliot, as most of the Dark Knight´s villains turn out to be a sociopath, and a incredibly smart boy, who tried to kill his parents to gain the family fortune, as every good son would do. Thankfully, Mrs Elliot was saved (Mr Elliot was killed instantly) , due to the skills of Thomas Wayne, father of Bruce. Elliot blamed his friend for this.
Elliot loved to play strategy games with Bruce, and always won. He hated his parents, his father an abusive drunk, his mother, could´t care less about him. (This is not an excuse to try and murder them).  He endured his mother for years, until to his delight she succumbed to cancer. He now had full access to the fortune.
Twisted by his greed , he  blamed Bruce  for his  "good fortune" after the deaths of the Wayne´s left Bruce in exactly the position that Elliot  had sought to create himself – a mentality that would one day fuel a clever  plot to destroy Bruce  altogether.
Elliot faked his own death at the hands of the Joker, Clayface(a mud-like meta morph) posing as his body, for Batman to kill the Joker . He then helped the Riddler, and mutated Killer Croc (a crocodile like man) and had him setting up ransom kidnappings for more money. He also employed the help of Catwoman and Poison Ivy. His name was given to him by Scarecrow (see above) who when singing "Hush little Baby" a song about a child who wants more, gave him the inspiration for the name. Hush adopted a bandaged face, and deep, soft voice as his persona, though does not use "noisy signatures".
He also had plastic surgery to make himself look like Bruce, drove Joker out of town, and framed Alfred (Batman´s butler) for murder. He nearly killed Poison Ivy, tried to cut out Catwomans heart and tried to kill the Joker.
Hush is armed with scalpels and two guns which he is very good at using. He is also adept at  martial art. He has a horrendous reputation with his villain friends, having tried to kill half of them in fits of selfish rage and anger (e.g: trying to kill Poison Ivy after she refused to work for him) .
1. The Joker, Clown Prince of Crime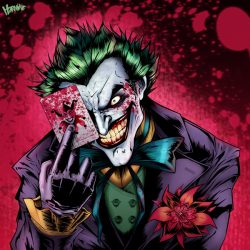 "Madness is the emergency exit. You can just step outside, and close the door on all those dreadful things that happened. You can lock them away… forever."
Meet the most twisted villain of them all. Joker.
The Joker is a psychopath and sociopath, with anti-social personality disorder, a criminal who brutally and horribly kills his victims, usually in extremely dark and ironic forms, for his own personal amusement . He is responsible for the paralysis of Batgirl, and the death of the second Robin, who he beat with a crowbar.
Almost nothing is known of the Joker. He was a man named Jack, and a criminal named the Red Hood, who accidentally took a dive in a vat of chemicals, which dyed his hair green, lips red, and face and teeth a dazzling white. He became a criminal to support his pregnant wife.  He took up a flair for purple suits and pinstriped trousers as the Joker.  He is desperate to prove he can make someone like him, and has committed inhuman things to prove this.  He even convinced psychiatrist Harleen Quinzel (Harley Quinn) to become his sidekick and love interest.
He developed his own gas, which he is immune to, called Joker Venom, as it left a corpse smiling maniacally. He also shot Commissioner Gordon´s second wife in the head. He is utterly fascinated by Batman, who he says, makes him complete, and refuses to kill him, taking delight in making his life a misery.
He has incredibly good connections to the criminal world, usually associating with the rest of Batman´s villains, forging regular alliances with them, though he has a rocky relationship with Two Face and Scarecrow, who he beat with a chair after Dr Crane tried using his fear gas on him, which suggest that Joker has no fears as the gas had no affect.
He seems to have dual personality, being both a harmless clown and vicious killer. He is a sadist, and has a loud personality, staging mock circuses and fun fairs for the deaths of  his victims. He enjoys playing games with his adversary, leaving his calling card and (in the way of the Mad Hatter) throwing parties, and dressing Arkham´s inmates in clown freakish clown costumes.
He is armed with a arsenal of trick weapons. A 10.0000 voltage electric hand buzzer, flower which squirts acid, BANG! gun, normal gun. trick cane, several knives and Joker Venom gas bombs. He is shown to delight in pain, laughing hysterically when injured or beat up. He loves causing chaos, and has shown to be an adept fighter.
He is shown to have a modus operandi of mentally and physically torturing people in savage ways, such as killing family members or cutting said victims face off. He even slaps and belittles his "girlfriend" going so far as to even shooting her once, even though she forgave him. (Kids do not establish this kind of relationship. Ever.) He also wants Batman to either kill him (proving he can be forced over the edge) or like him.
Joker takes childlike delight in his schemes, dancing, pirouetting, singing and also talking in a friend-like way whilst committing atrocities never heard by man.
As a homicidal, psychopathic, ruthless, maniacal ,dangerous lunatic, extremely  manipulative,and  intelligent master criminal, and Batman´s most famous enemy, the Prince Of Crime is king of my list.
Pablo Lacalle Castillo