The Revenant
Reviewed by Pablo Lacalle, 13 years old.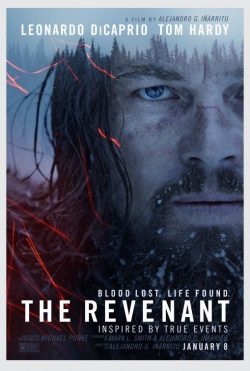 Recommended age: as from 13 years old.
Who doesn't like Leonardo DiCaprio? The star of many a great film such as the mind-boggling Inception, the classic Catch Me If You Can, and the critically acclaimed Wolf of Wall Street. However, even though contributing amazing acting to all of these hit films, DiCaprio has never managed to snag a single Academy Award, much to his chagrin. Well this is the one that did it.
Directed by Alejandro Iñárritu, a talented Mexican director who has produced successful films such as the critically acclaimed Birdman, starring Michael Keaton. Although he went to hell and back to direct The Revenant, and struggled with weather, actors and much more, his hard work paid off as he made history with this increadible film.
–Warning, minor spoiler alert–
The Revenant is based on a true story, so radical it is difficult to believe. Leonardo DiCaprio plays Hugh Glass a real life trapper who was mauled hideously and half to death by a full grown grizzly bear, which he killed with only a hunting knife. He then crawled with only the clothes on his back, having been abandoned by his friends, more than 200 kilometers from a shelter. And lived. So it's obvious that I was pretty excited to watch this movie.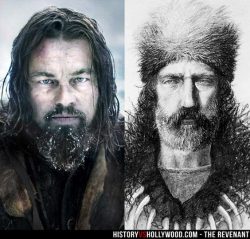 With a cast like Leonardo as well as Tom Hardy (Inception, Batman) as the villain of the movie, a trapper by the name of Fitzgerald who kills Glass' son, it is no small wonder that the film was building itself a reputation.
Unlike many of the films that I had seen that had promised to be "dark and gritty", such as the God-awful Fantastic Four film, the Revenant managed to make it work fantastically. Combining jaw dropping landscapes, from woody forests to icy lakes, American fortresses and snow capped mountains the film was a visual masterpiece. The film's cast did a spectacular job, completely capturing the essence of hardship and endurance which was so common in Colonial America, as well as the tension as they risk being hunted down by Arikari Indians. Leonardo Dicaprio and Tom Hardy stole the show, with Dicaprio perfectly capturing the essence of the revenge driven, tough as nails Hugh Glass, and Tom Hardy pulling off a spectacular southern accent, as well as striking gold with his portrayal of the cynical, selfish Fitzgerald, who kills Glass' son. As well as this, the film brings some truly outstanding fight sequences, vibrant and throbbing with tension. Glass' mauling by a bear is gleefully hideous, whilst the films climax features one of the most brutal, hardcore man on man fights I have ever seen in cinema.
With a jaw-dropping ensemble, great pacing, outstanding scenery and gripping action it's no wonder that this film won DiCaprio his first Academy Award.