Skulduggery Pleasant
Derek Landy
Recommended age: as from 12 years old.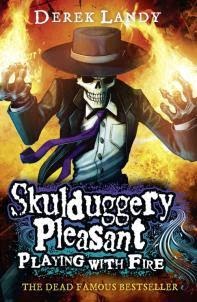 A thrilling story with magic, adventure, fighting, and a lot of humor! Oops, I nearly forgot to mention that one of the main characters is already dead!! Skulduggery is a detective, magician and warrior who while "passing by" gets to meet Stephanie and they become partners in fighting evil.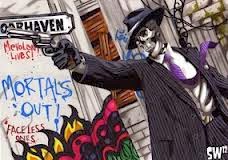 Pablo L.C. (11 years old): "The Skulduggery Pleasant series is one that I guarantee you will adore. All 8 books are crammed full of the most witty, scary and funny things you will ever find. Meet Billy-ray-sanguine the killer, Dusk the vampire, Fletcher the teleporter and Mevolants dreaded three generals. As the series goes on the enemies get better, the fights get bloodier (including a sequence full of bloodthirsty zombies) and the impending threat of the all powerful, god-like Darquesse gets steadily worse and worse. So buckle up and get ready for the funniest, goriest, most addictive books ever written. Watch out for the next Skullduggery book, Armaggedon out of here! (groan.)
Mert B. (12 years old):  "I've just finished a Skulduggery Pleasant book and it is exciting and very funny. It can be a little scary at times (not really) but I would definitely recommend these books to an age group from 9-13. It is a great book and I enjoyed a lot and I hope you´ll enjoy it too!"
Daniel L.C. (11 years old): "These books are amazing as they are not just action paked, but full of mystey, crime, a bit of gore, fantasy and magic, meaning that it has everything good enough to keep every reader reading until the last page! What I liked about these books is that the main character is actually a girl, so girls can carry on reading without being overwhelmed with boyish stuff (lucky for us boys 90% of every epic character apart from her in the book is a boy!). My favorite one, who is actually not one person but many, are the most clever, they are perfect killing machines and amazingly cool."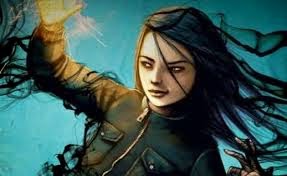 This is Stephanie, a feisty, funny girl who gets involved in a world of magic, dark gods, psychotic killers and… all because of a mystery in his uncle´s life.
Jaime L.C. (11 years old): "These are an awesome bunch of books which get more violent and gory as you read on, they tell the story of a young girl who learns about magic and follows a detective to solve murders, capture evil wizards and stop faceless evil gods from coming into the world. The detective´s name is Skuldugery Pleasant (this is a fake name that he uses, all wizards take fake names because names contain power and someone could make them do things they don´t want if they know their names). He is a skeleton whose family was killed and then he was tortured and killed and brought back to life! I guarantee that anyone who is into magic, mystery and violence will love these books ( I do 🙂  )."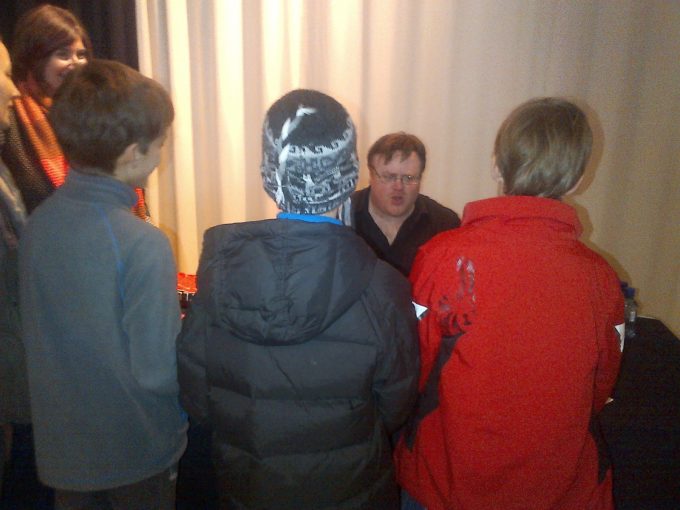 Related activities.
Visit the Skuldeggery web page, full of information about the books, the author and many more interesting facts, click here.
We had the chance to meet Derek Landy in London, at the Southbank Center. He talked about his books, the main characters in his stories and about his new projects. We got some of our books signed! He is really awesome!
Did you know…?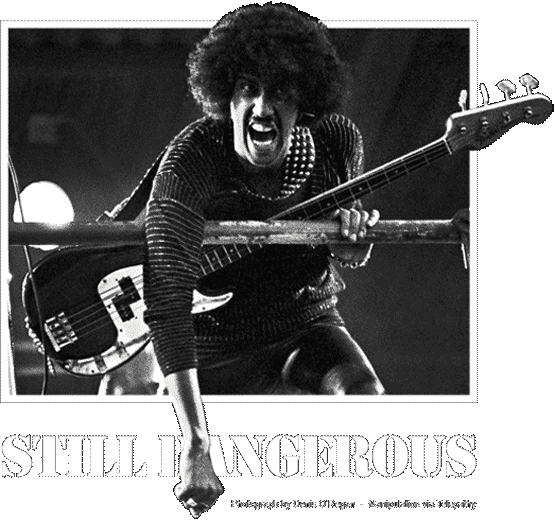 Derek Landy is from Ireland and his books include some interesting Rock and Roll references and imagery, from mentions to Aerosmith, the classic rock band known as the"bad boys from Boston", to the costumes and look of many of the characters… and special mentions to one of Ireland´s -and the world´s- biggest rock bands: Thin Lizzy.
Ireland has given the music world many great rock bands. The most important is, of course, U2, but for our friends in the blog and the books of Derek Landy Thin Lizzy is a better choice, as they were tough, hard-rocking, and their image was menacing and leather-clad.
Thin Lizzy formed in Dublin in 1969. The founding members met while still in school. Phil Lynott was the leader and main songwriter throughout their recording career of twelve studio albums, selling millions worldwide. Thin Lizzy are best known for songs like "Thunder and Lightning", "Jailbreak" and "The Boys Are Back in Town". Very bad boys indeed!. Derek Landy even named one of the chapters of Skulduggery Pleasant "Killer On The Loose"… like one of Thin Lizzy´s biggest hits.
We welcome our latest team member.
Mert B. is 12 years old and he is our friend from school in London. He has a younger sister. His hobbies are bike riding and computer gaming. He also enjoys skiing and windsurfing and he is about to take his violin grade 6, WOW!
Thanks to:
Daniel Lacalle, our very own Rock and Roll expert, who has been in charge of our "Do you know…?" section this week.
Check out our Facebook page, La biblioteca de Miss McHaggis, this week will be dedicated to Rock and Roll!!